Short Distance Moving Guide
Moving, even a short distance, can be quite stressful if you don't properly prepare.
Here's how to choose the best way to move a short distance and make it go awesomely.
Short Distance Move Defined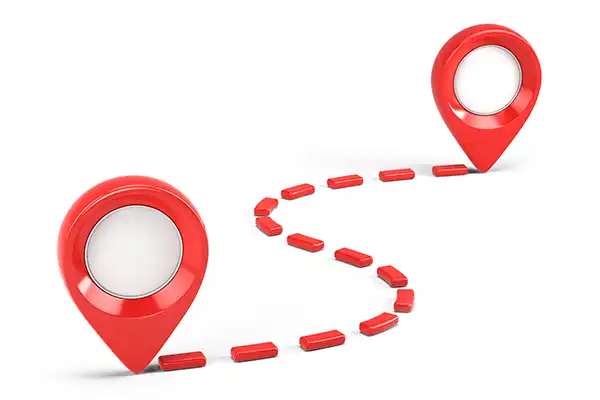 A short distance move is any move less than 50 miles and within state lines. A move greater than 50 miles is considered a long distance move. A move less than 50 miles but crossing state lines is an interstate move.
It is important to differentiate between short distance moves and long distance/interstate moves because the 2 are billed differently. Also, some moving companies will move a short distance but not a long distance. Some moving companies specialize in long distance moves, and will over charge you if you're moving a short distance. Last, some DIY moving options are better suited for a short distance move than a long distance move and vise versa.
Keep reading for everything you need to know about maximizing your short distance move.
Your Best Options For Moving a Short Distance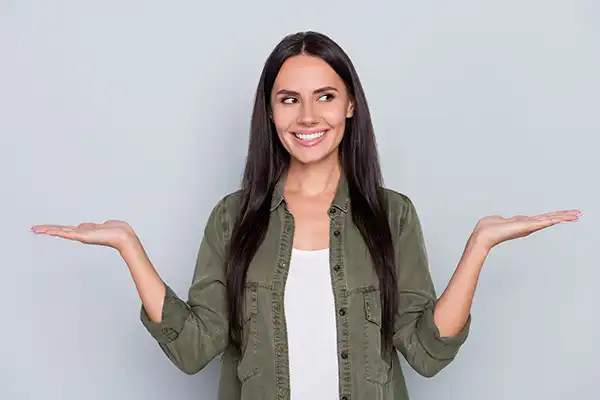 When moving a short distance, you have 5 options:
A full do-it-yourself (DIY) move
Truck rental DIY
Hiring moving help
Moving container rental
Hiring short distance movers
1. A full do-it-yourself (DIY) move
With a full DIY, you do everything yourself.
You will need:
Tools for assembly/disassembly – of your kitchen table, bed set, etc.
Moving supplies – boxes, tape, & moving blankets
A pickup truck – If you don't have one, you can borrow one from a friend or family member
Moving help – you'll need at least 1 other able-bodied person to help you move the big stuff
If you have access to a truck and are able to lift 60+ lbs. comfortably, this could be a great route. It's also your cheapest option, because your only expenses are gas and moving supplies.
The biggest downside to a full DIY move is the amount of work & labor required. Also, you'll probably have to take multiple trips since odds are you can't fit everything in 1 pickup truck load.
2. Truck rental DIY
Truck rental DIY is the same as a full DIY, except you're renting a moving truck from a company like U-Haul or Penske.
You will need:
Tools for assembly/disassembly – of your kitchen table, bed set, etc.
Moving supplies – boxes, tape, & moving blankets
Moving help – you'll need at least 1 other able-bodied person to help you move the big stuff
The main advantage of having a moving truck (vs. a full DIY) is you have much more space to fit your stuff, so you won't need to take multiple trips. Moving trucks are also much easier to load than pickup trucks, since they have ramps.
If you have a couple hundred dollars to shell out, or don't have access to a pickup truck, this is definitely a good DIY moving option for short distances.
The biggest downside to short distance moving truck rental is you have to pay money and do lots of work.
3. Hiring moving help
When you are hiring moving help, you are hiring an extra hand or 2 to perform "labor only". That means they don't provide a moving truck or any equipment, they are just an extra helping hand.
You will need:
Tools for assembly/disassembly – of your kitchen table, bed set, etc.
Moving supplies – boxes, tape, & moving blankets
A moving truck – your own pickup truck or truck rental
You can find moving help from local job listing sites like Craigslist. Also, U-Haul has a good Moving Help program. Last, you can call around to local moving companies to see if they offer moving help at a reduced rate from full service moving.
Moving help is a great way to get an extra set of muscles to lighten the load. Its biggest disadvantage is you need to provide the truck and hire the help – which could end up costing you about as much as hiring full service short distance movers.
4. Moving container rental
With moving container rental such as PODS, U-Pack and Zippy Shell, you do the loading & unloading, and the container company moves it for you.
So the container company drops it off, you load, they move it, you unload, and they pick it up.
You will need:
Tools for assembly/disassembly – of your kitchen table, bed set, etc.
Moving supplies – boxes, tape, & moving blankets
A benefit of moving container rental is you don't have to drive a big moving truck.
Since you are doing the loading & unloading, it is oftentimes cheaper than hiring movers too.
Another advantage of moving container rental is flexible scheduling. Oftentimes you can have the container for 1 week or longer. This means you can load & unload at your own pace, even use it for storage if you need to.
A disadvantage of moving container rental is you still have to do all of the work except for the driving. Plus, this option tends to make more sense for long distance moves.
5. Hire short distance movers
For the easiest short distance moving option, consider hiring a full service short distance moving company.
You will need:
While hiring movers to do the work for you will cost more than the first 4 options, the time savings and peace of mind could be well-worth it.
Plus, professional movers have the proper equipment & expertise to keep your items safe from damage. In the case that something does get damaged, you can always file a claim.
While movers will even do the packing & unpacking for you, we generally suggest that you pack & unpack your own stuff – because it will save you a ton of money and help you keep better inventory of your belongings.
The only downside to hiring movers as opposed to the DIY options is the price. But if you have a bit of cash, we highly suggest this option.
When to Hire a Short Distance Mover & When to Do It Yourself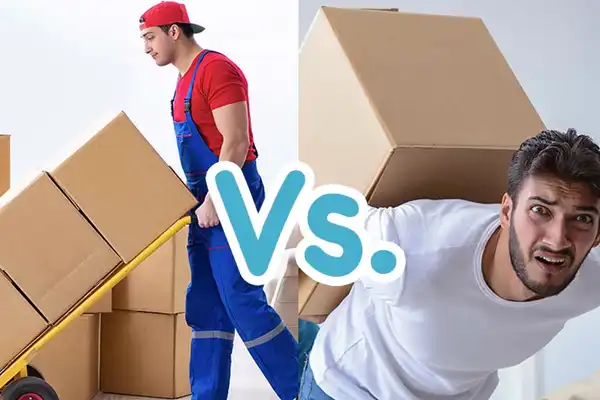 A short distance do-it-yourself move is more feasible than a long distance move. That's because less travel time means less risk of damage to your belongings, less stress driving a moving truck cross country, less logistics, and less overall work. That being said, you should still consider the following before tackling a DIY move.
You can move yourself (DIY) a short distance if:
You want to save money
You are in good cardiovascular shape and can lift 60+ lbs
You have at least 1 other helper who is in good cardiovascular shape and can lift 60+ lbs
You don't have too much stuff to move
You don't have any insanely heavy/difficult/valuable/fragile stuff to move
You feel comfortable driving a moving truck around town
You have moved before, or are at least well-versed with manual labor
You should hire short distance movers if:
You can afford it
You aren't in good shape or can't lift 60 lbs.
You don't have enough moving help
You have lots of stuff to move
You have difficult or fragile things to move
You don't want to drive a moving truck
You aren't experienced with the basics of moving (assembly/disassembly, truck loading, fitting stuff through doors, etc.)
So in general, if you've got the muscles, skills, & experience you can move a short distance yourself.
If you've got the cash & don't want to break your back, you should hire short distance movers.
Still wondering whether to hire movers or DIY? Take our quiz to find out which option is best for you.
8 Tips for Doing a Short Distance Move by Yourself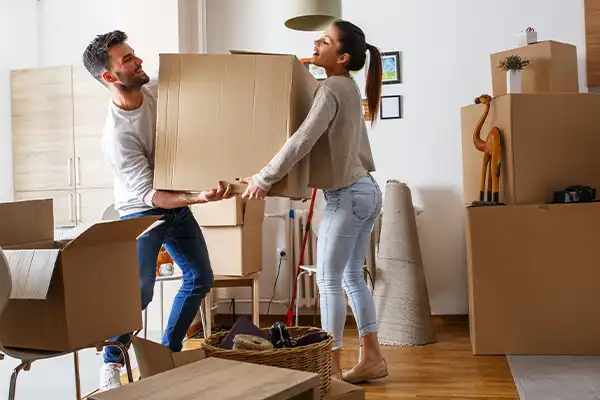 If you've decided you have what it takes for a DIY short distance move, excellent. Follow these 5 tips to ensure a stress-free move:
1. Start early
The earlier you start planning & preparing for your short distance move, the better. Of course, this is not always possible (life moves fast). However, if you have the luxury of starting early, do it. We suggest you start taking the first steps 1 month in advance to move-out day.
2. Create a time, money, & effort buffer
Moving, even a short distance, is a lot of work. Oftentimes, it can be more work than you expect. When planning, overestimate the cost, time, & difficulty of your move. Odds are you'll end up being more accurate.
3. Declutter & downsize
The less stuff you have to move, the easier your move will be. 1 of the first things you should do is start thinking of things you can do without. If you haven't used it in 1 year or longer, you may be able to part with it. You can donate, dump, or sell your unneeded belongings.
4. Pack everything
The purpose of packing is to reduce the number of trips you take to and from the moving truck. Also, boxed items will travel more safely. So if something fits in a box, put it in there. Be sure to get enough moving boxes and pack a day bag with your essential items.
5. Assemble & disassemble everything
Just because something will shimmy through the doorway without being disassembled doesn't mean you shouldn't disassemble it. It may seem like more work, but it will actually save you time by making moving, loading and unloading much easier. Also, it reduces the risk of damage (be sure to wrap the disassembled pieces in moving blankets).
6. Use lots of packing paper and moving blankets
When packing fragile items such as kitchenware, you should use lots of packing paper. When loading dressers & other scratchable items onto the truck, be sure to cover them with moving blankets or pads. If you don't, you are almost guaranteed to end up with some nicks and scratches on your prized furniture.
7. Get lots of help
Sure, you could probably move everything with just you and 1 other strong friend, but why break your back? The best DIY moving crew consists of 4 or more able-bodied people. You'll thank us later.
8. Use wheels
Wheels are man's (and woman's) best friend when it comes to moving. You definitely want a 2-wheeled dolly for moving your boxes, especially if you have a "long carry". A long carry is a move where you have a long distance from your front door to the moving truck. A good example is an apartment. You can also consider renting or buying a 4-wheeled dolly or specialty appliance dolly.
5 Tips for Hiring the Best Short Distance Movers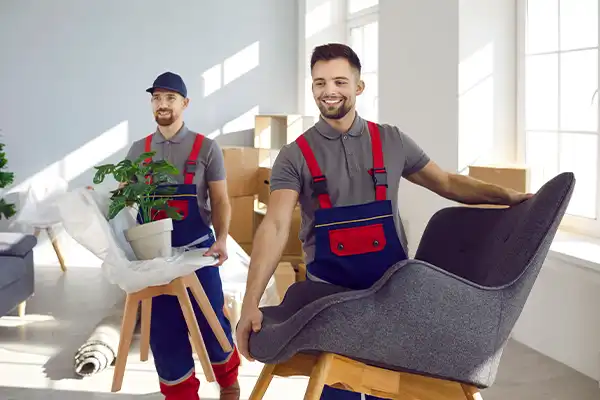 If you've decided to hire movers, good choice. Now you need to make sure you are booking with a good company.
Here are 5 things to do to make sure you hire the best short distance movers.
1. Read reviews
This goes without saying, but if their previous clients were satisfied with their move, then odds are you will be too. Check the company reviews on their Google Business Profile, Yelp, and the BBB. Look out for fake review red flags, such as overly generic reviews, too specific of reviews, repetitive sounding reviews, and poor grammar or spelling mistakes. The good news is, these review sites are usually pretty good at detecting and removing fake reviews. However, some can get through the cracks, so trust your gut.
2. Ask for referrals
Ask around to friends and family members to see if they've used a moving company that they like. Referrals are very valuable because you know & trust your personal connections, & don't have to worry about fake reviews. Odds are if they are raving about this company, then you'll like them too. Both of you may even get a referral bonus, so be sure to mention who referred you to your moving company.
3. Book early
The good movers tend to be booked out several weeks in advance – especially during peak season (summer). The sooner you begin calling & planning, the more likely you are to find the right moving company that is available on the right day. If you wait too long, you may just end up going with whatever company can fit you in.
4. Shop around
The more movers you contact, the more likely you're to find a great company. Call around and ask them about their pricing, experience, and service offerings. You'll get a good feel for the company just by speaking with them.
5. Use a moving quote tool
The easiest way to find the perfect short distance moving company is to use a moving quote tool. Moving quote tools are provided by 3rd parties that have relationships with pre-vetted, high quality movers. When you give your moving details to them, they contact the movers. Then, the movers contact you. These services are free, and you can start right now by using our Short Distance Moving Company Rate Estimate Tool.
Short Distance Moving Pricing
As we covered earlier, you have 5 service options for moving a short distance.
Here is how pricing works for each one:
1. A full do-it-yourself (DIY) move
Estimated price: Free
If you move yourself and use your own truck, your only expenses are gas and packing materials. It's the cheapest way to move a short distance.
2. Truck rental DIY
Estimated price: $50-$200
We estimate that an in-town local truck rental will cost between $50 and $200.
1-way in-town moving truck rental is typically priced as a flat fee + a set rate per mile.
With U-Haul for example, their local truck rental pricing ranges from around $20-$40, depending on what size truck you get. Their price per mile is around $1. So if you rent a small truck for $20 and drive 30 miles round trip, your total bill would be about $50.
When you are booking your truck, they will ask you to estimate how many miles you'll be driving, then they factor that into your bill. The bill is then adjusted after your move if necessary.
Other moving truck rental companies structure their pricing similarly for short distance 1-way moves.
3. Hiring moving help
Estimated price: $100-$400
Moving help can range in price anywhere between $20 and $60 per mover per hour. At the low end of this range would be general independent laborers. The high end of the range would be the price for a professional mover to help you.
Keep in mind, with this option you need to provide your own moving truck. So there is a chance you will need to pay to rent a truck and hire moving help. We factored that into our rate estimation.
So if you have your own pickup truck to use for the move and hire 1 cheap moving helper for around $20/hour, a 5 hour job would cost you $100 (the minimum in our estimated price range).
If you rented a moving truck for $100 and hired 1 professional helper for 5 hours at $60/hour, a 5 hour job would cost you $400 (the maximum in our estimated price range).
4. Moving container rental
Estimated price: $250-$600
Moving container rental companies such as PODS, Zippy Shell, and U-Pack usually structure their pricing as 1 flat fee per container + price per mile.
We used moveBuddha's moving cost calculator to estimate our short distance moving container rental price range.
$250 is the estimated price for 1 container moving less than 10 miles. $600 is the estimated price for multiple containers moving 40-50 miles.
5. Hiring short distance movers
Estimated price: $500-$1,900
Professional short distance moving companies price per mover per hour of labor. Their hourly fee per mover typically ranges from $50-$60.
So if you hired 2 movers for $50 per mover per hour ($100 per hour) for 5 hours, your bill would be $500 (the low end of our range). This price area would be for moving 1-2 bedroom apartments or small houses.
If you hired 4 movers for $60 per mover per hour ($240 per hour) for 8 hours, your bill would be $1,920 (near the high end of our range). This price area would be for moving 4+ bedroom larger houses.
How to Hire Short Distance Movers for Cheap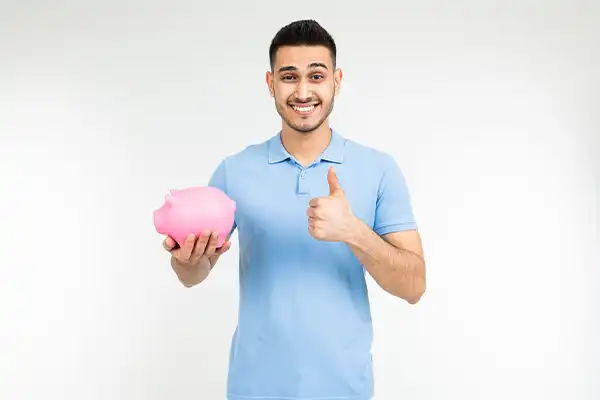 We're not saying you should hire the cheapest short distance moving company that you can find. In fact, that could come back to bite you. As the (super cliche) saying goes, you get what you pay for.
But here's what you should do – prepare to make your mover's job go fast & smooth.
Since short distance movers bill by the hour, the sooner they get done the less you'll pay.
There are certain things that you can do to dramatically decrease the amount of time that your movers take. Here they are.
5 ways to make your short distance mover's job go fast
1. Pack, disassemble, & assemble everything yourself
Packing, assembly, & disassembly are all things that movers do, but take a considerable amount of time. If you pack everything into a box & disassemble stuff before your movers get there, that's 1 less thing they'll have to bill for. Let them know you'll reassemble the stuff on the other end too.
2. Have your movers move boxes from 1 garage to the next garage
Move boxes & all other small stuff into your garage before the movers arrive. That way, all they have to do is load them from the garage to the truck, saving a bunch of time. On the unload, tell your movers they can just drop all the boxes & other small stuff off in the garage too.
3. Prop doorways & clear pathways
Keep your doorways & pathways open. If you're moving in the winter, be sure to shovel and de-ice your driveway too. Again, this is all stuff that movers will do for you no problem, but stuff that takes them time.
4. Get a sitter for your pets and kids
Just like you want to keep doorways & paths clear, you want to keep kids & pets out of the movers' way. Consider booking a sitter or sending them to a friend's house. Not only will it save you money, it is considerate and safer.
5. Communicate with your moving company
During the booking process, tell your moving company your budget and that speed/price is your priority. Sometimes movers will take a long time double wrapping everything and being super careful with your stuff. If you're OK with them prioritizing speed over the condition of your items, let the movers know this.
Also, if you've taken steps 1-4 of the above, definitely tell your movers this too.
How Much to Tip Short Distance Moving Companies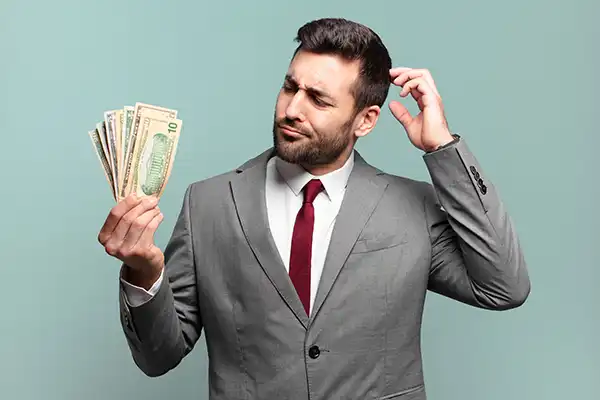 The national suggested amount to tip your moving company is between $20 and $50 per mover per full day's work. $20 per mover per day would be a good tip for your short distance move if its a small job requiring 5 hours of work or less. For longer days or if you particularly liked the service, your tip should be between $40-$50 per short distance mover per day.
Keep in mind, tips are not required or expected for short distance moving. If you didn't like their service or are just tight on cash, you can skip the tip no problem.
Another way to show your appreciation is to have cold drinks on hand and/or buy them lunch.
5 benefits of hiring a short distance moving company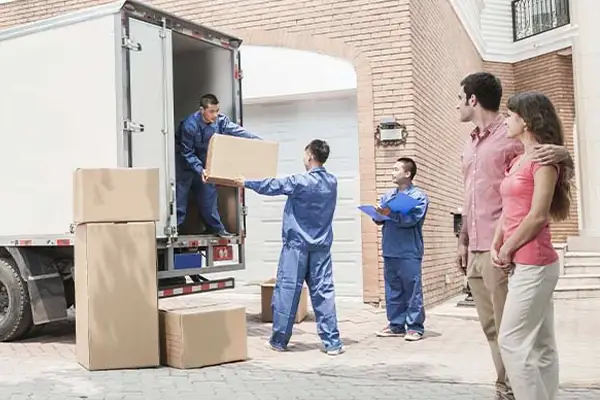 If you can swing it, we highly suggest hiring a professional moving company for your short distance move. Here are 5 reasons why.
1. Less risk of damage to your belongings
Professional moving companies have the right tools & equipment to move & load your belongings safely. Trust us, even if you're super careful, movers will be less likely to damage your stuff than you would be.
If your belongings do get damaged, you can file a claim. (If you were moving DIY, you probably wouldn't file a claim on your buddy).
2. Speed & reliability
Movers are fast. They have the physical conditioning and technique to zoom your stuff on and off the truck. Stay on schedule rather than moving yourself into the wee hours of the night.
3. Save your back
Moving is not fun – It is considerably physically demanding. If you want to forgo the risk of injury or being sore for a week after your move, hire the professionals.
4. Free yourself up
There are a lot more elements to your short distance move than just the physical labor. Cleaning, packing & scheduling to name a few. Letting the professionals do the heavy lifting frees up your time to focus on the rest of your move.
5. Total peace of mind
Moving is stressful. Among many other things, the actual labor of moving is 1 of the most challenging parts. Take that off your plate by hiring a professional short distance moving company. Experience peace of mind from increased safety to you and your belongs, and freed up time for you to focus on what matters.
Local Short Distance Moving Checklist
1 month out – Choose your moving option & book it
Decide where you're doing a full DIY, renting a truck, hiring moving help, renting a container, or hiring short distance movers; then book it. If you have kids or pets, this would also be a good time to book a sitter for them.
3 weeks out – Take inventory & declutter
Begin getting a feel for everything that you own, and if you find some things that you can do without, consider getting rid of them by donating, discarding, or selling them.
2 weeks out – Switch out utilities & mailing address
Update your address for utilities, cable, & internet. Contact important companies like your bank and doctors offices to let them know your new address. Last, set up mail forwarding to your new address.
1 week out – Begin packing
Start packing infrequently used items like storage stuff, spare bedding, chinaware, and decor first. Continue packing the rest of your stuff over the next several days. Don't tape the boxes shut yet in case you end up needing any of the stuff.
The day before – Finish packing
Finish getting everything into a box. Remember to label everything and not pack away essential items like toiletries and medication.
Moving day – Final preparation & implementation
The morning of your move, prepare by clearing pathways, propping open doorways, & get ready to greet your movers. If you're doing a DIY move, some stretches might not be a bad idea either.
Then it's time to get to work. If you hired movers, then you can sit back and relax – just make sure you're available if they have questions. If you're moving yourself, lift with your legs!
Short Distance Moving Doesn't Have to Be a Headache
No matter how smooth your short distance move goes, you probably still won't have the time of your life. However, if you follow this guide to a tee, we promise it will be the difference between pulling your hair out and just a mildly unenjoyable experience.
We've covered your short distance moving options, DIY vs. hiring, how to make the most of your move, how pricing works, and why we suggest hiring the pros.
Click below to get free, no-hassle moving quotes from the best short distance moving companies in your local area.