19 Cool Yard Ideas for Your New Home
You're here because you want to spice up your yard with some cool landscaping and design elements.
Whether you've just moved into a new home or looking to add character to your existing outdoor space, these ideas are sure to inspire creativity.
Here are 19 cool, fun, and unique yard ideas for your outdoor living space.
1. Exotic Trees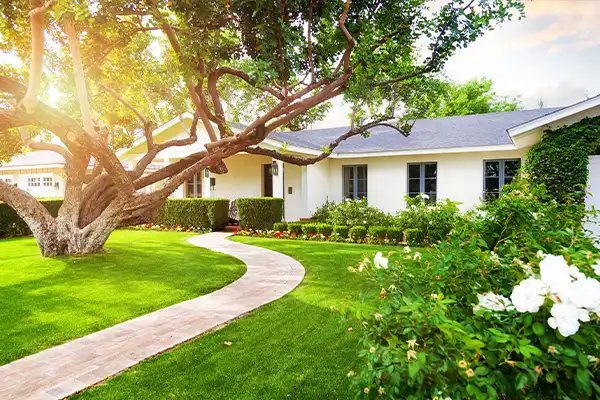 Trees are a popular landscaping option that not only look cool, but can increase your home's resale value when moving out, provide privacy, freshen the air, provide shelter from wind, and prevent soil erosion.
You could plant a large one in your front yard to be the talk of the block. Or plant some in your backyard to create a lively & natural atmosphere.
To really add character, choose something unique and exotic. Just be sure that whatever you choose will thrive in its natural habitat and that you care for it appropriately.
2. Outdoor Putting Green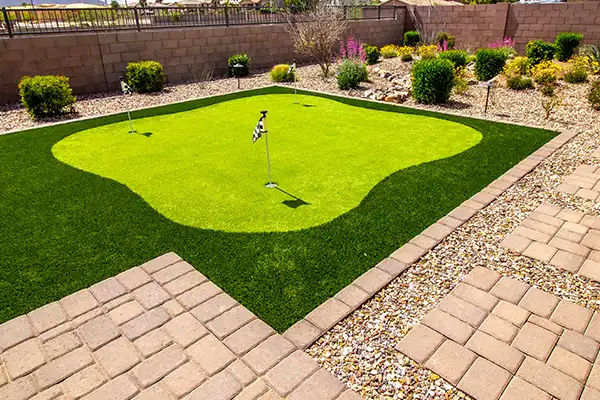 Golf enthusiasts rejoice – you can have a lifelike golf experience from the comfort of your own backyard.
The most popular option with the least maintenance is an artificial turf course.
You can either hire professional installers or build your own putting green. If you choose to build your own, here's a popular provider.
3. Water Fountain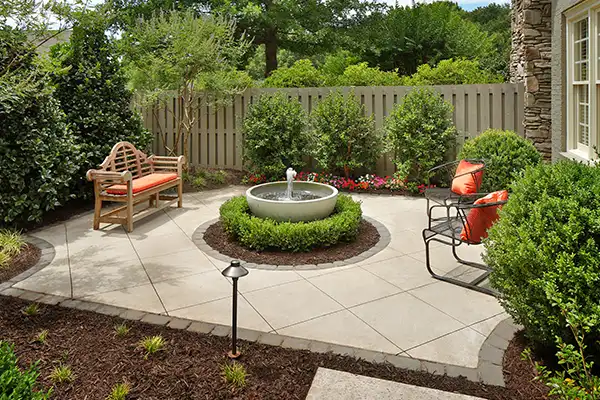 As humans, we are hardwired to gravitate toward bodies of water. Water fountains are are a way to take advantage of this, right from the comfort of your own yard.
Fountains offer a peaceful, soothing environment and a place to decompress.
You have many options on size and style of fountain, here are some ideas for inspiration.
4. Giant Statue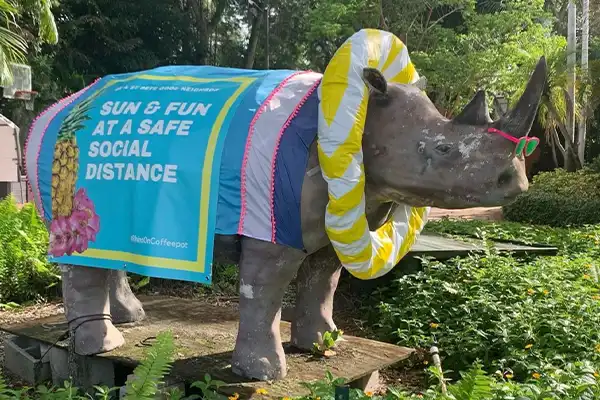 Here's a unique idea for your yard – add a cool, fun statue to your yard.
The rhino sculpture pictured above is coined the Rhino On Coffee Pot. Its located on the front lawn of a residence in St. Petersburg, Florida and it has generated quite the buzz. It even has its own Instagram channel.
For something a little more inconspicuous, you can add statues to your backyard too.
5. Outdoor Speaker Rocks
Outdoor bluetooth speakers are a must-have for any backyard. But what if you could secretly integrate a more permanent structure into your yard?
Outdoor speaker rocks blend in to their natural environment and link seamlessly to your smart device for a stylish audio oasis.
6. Outdoor Dining Area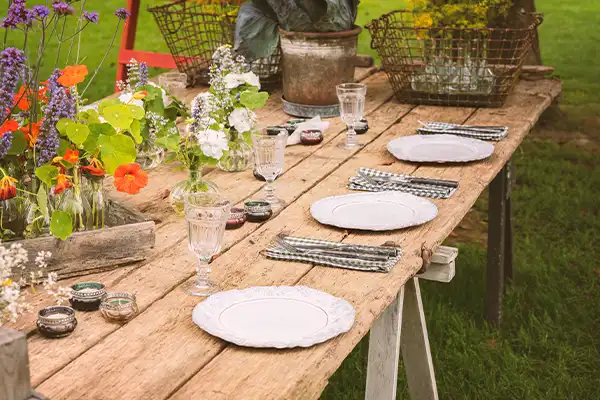 Get some fresh air while dining with your friends and family outdoors.
Rather than a standard patio table, consider a rustic wood that is large enough to accommodate large groups of people.
This will let you get your vitamin D and look nice in your yard.
7. Cozy Fire Pit
A fire pit is a great way to gather, unwind, and stay warm while enjoying the outdoors.
To add some pizazz, consider landscaping around your pit to include in-ground stone seating. You can also add outdoor pillows, decor, and lighting to create a homey outdoor environment.
8. Bocce Ball Court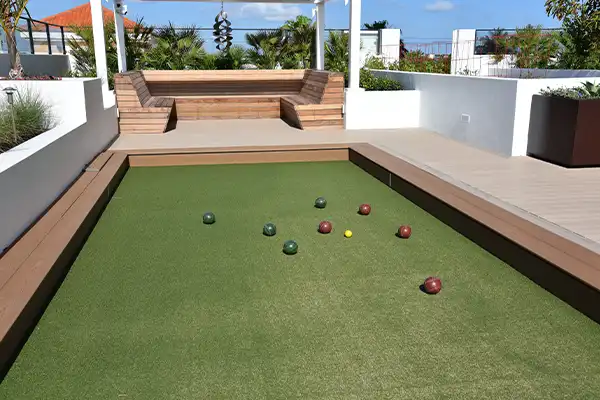 Bocce ball is a great leisurely activity for friends and family to unwind, relieve stress, and spend quality time together.
Consider building a court right in your backyard.
Not only will it be a blast, it will look pretty cool too.
Here's how to install one yourself. Otherwise, you can hire a pro.
9. 2 Levels
Create 2 levels in your backyard by landscaping in a retaining wall.
This is great for leveling off a sloped backyard and creating a clean aesthetic.
10. Tire Swing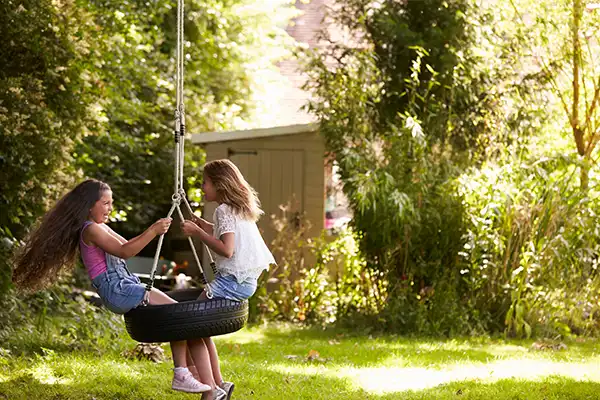 Create nostalgia with a good old fashioned tire swing.
All you need is a used tire, some rope, and a sturdy tree.
Give the kids hours of fun for an easy install and next-to-nothing cost.
11. Tree House
Who doesn't love tree houses? The sky's the limit when building one.
Whether you want to build a full house like the one pictured above, or simply nail some boards to the top of your tree, a tree house is sure to inspire imagination and add character to your backyard.
12. Nordic Bath
A Nordic bath is a uniquely styled hot tub that is circular in design with vertical wooden panels.
While a hot tub of any sort is a great way to unwind, soothe sore muscles, and increase health, a Nordic bath offers a cool aesthetic.
13. Outdoor Heating
What good is a cool yard if you're freezing cold?
For those who don't have the luxury of nice year-round weather, outdoor heating can be an excellent way to enjoy your yard year-round.
You could even install in-ground heating if you want to get crazy with it.
14. Colorful Lighting
For enjoying your yard at night, outdoor lighting is a must.
Why not have some fun and integrate colorful LED lighting for your outdoor space?
You can use strip lighting, colorful bulbs, string lighting, even year-round Christmas lights (why not?).
15. Outdoor Theater
Turn your backyard into an outdoor movie night venue.
You have 2 options for your theater – projection and LED.
With projection, all you need is a white backdrop and the projector itself. It's great for nighttime viewing on a budget.
LED poses the advantage of being able to shine bright enough to be seen during the day, but it will set your pocketbook back several thousand dollars.
16. Hardscape
Hardscaping refers to incorporating hard man-made elements such as stone and brick into surrounding landscapes.
Hardscaping produces a pristine look and offers the benefit of being virtually maintenance-free.
The above image shows artificial grass turf incorporated in with stone, which is a great choice.
17. Tree Stump Seating
Tree stump seating is a natural, eco-friendly, and free option for providing a space to take a load off.
Simply cut some tree stumps to size and place accordingly.
You can also paint the stumps to add a playful aesthetic.
18. Zen Garden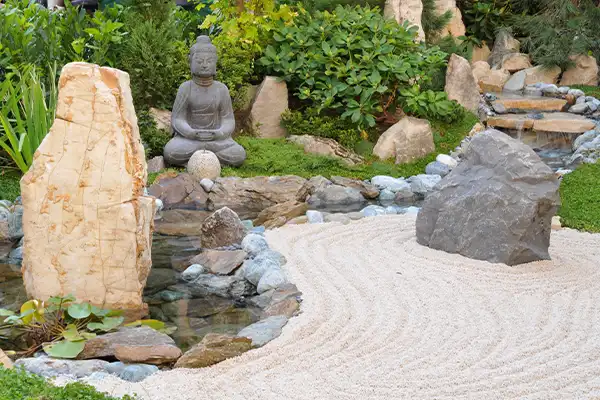 Create the mecca of relaxation with an outdoor zen garden.
The basic elements of a zen garden include raked sand, precisely pruned shrubbery, rocks, and water features.
Whether you're into meditation, or simply like the elegant look of these Japanese gems, a zen garden is sure to help you chill out.
19. Hammock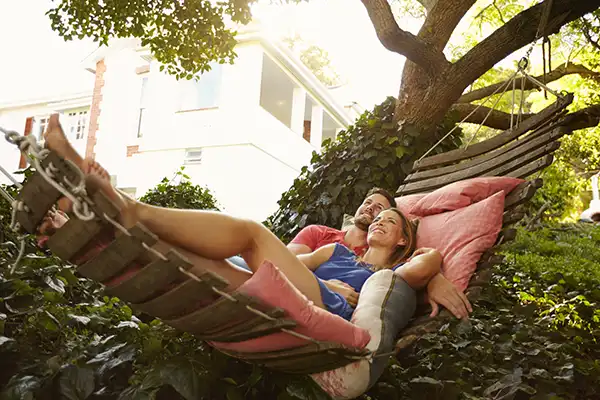 Another great way to decompress and stylize your yard is with a hammock.
Naturally placed hammocks (hung on trees instead of fabricated metal) will look the most appealing and be the most relaxing.
Be sure to have some outdoor pillows and blankets for ultimate comfort.
Make your yard your own with these novel design ideas
Follow these tips to create a comfortable outdoor space in your new home. If you're moving out soon, these can also be a great way to increase your property value. Or, if you simply want to spice up your existing yard, these should do the trick.
These cool yard & landscaping ideas are a surefire way to gather community and create a warm & comfortable outdoor environment.